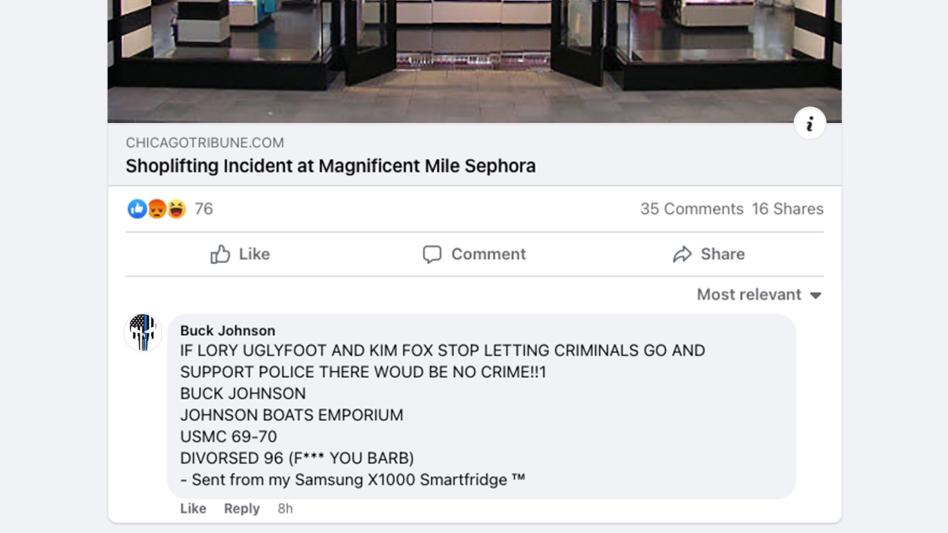 MICHIGAN CITY, IN – Crime in Chicago is expected to drop to zero as the city adopts a comprehensive justice reform package first suggested in a Facebook comment by Buck Johnson, 72, of Michigan City, Indiana. The comment came in response to a Chicago Tribune article regarding a shoplifting incident at the Magnificent Mile Sephora; a store Johnson owns no financial stake in, located in a city he last visited 6 years ago for a flight out of O'hare.
At an interview with the Genius Herald, Johnson further elaborated on the issues he hopes to address with his justice reform initiative: "Chicago is out of control; illegals come for the Democrat handouts and stay for the crime." While not a legal expert, Johnson's judicial system knowledge comes primarily from his business Johnson Boats Emporium's 2017 Department of Labor Immigation Fraud case, in addition to his three personal DUI convictions. "No one wants to work, just collect unemployment and buy lobsters with food stamps" added Johnson, whose business received approximately $115,000 in unaccounted-for PPE loans.
The reform package, now titled "All Cops are Brilliant," is projected to succeed despite decades of declining socioeconomic conditions in high crime areas, which have been proven to be far greater predictors of urban crime compared to police force size, cash bail and mandatory sentence minimums.
After seeing Johnson's comment, Mayor Lori Lightfoot addressed Chicago police officers at a press conference: "I love you. You are my special crime-fighting superheroes."
State's Attorney Kim Foxx, the progressive prosecutor somehow vilified by both sides of any debate, plans to close the turnstile traditionally used by convicted criminals to exit her courtroom back onto the streets.
"Once I saw the Mayor rollout the vaccine requirement for police, I knew I was going to be open season for us" said one West Chicago gang member, a resident of an EPA Superfund site whose father is serving a 20 year prison sentence for an amount of cocaine so small it would get you laughed out of any DePaul frat party. "But now that the Mayor supports the police? I'm giving up my life of crime for one of the many high-paying jobs in my area, to build the generational wealth that has excluded my family for generations via redlining"
Former Chicago Police Union President John Catanzara conceded that they may permit some crime to occur, citing the effectiveness of allowing looting during the Summer 2020 George Floyd Protests. "Obviously not all crime is bad crime, as long as it undermines protests of our conduct"
Johnson's suggestion of "GIVE EVERYONE A GUN LET'S SEE EM TRY AND CARJACK THEN" is currently still under consideration.