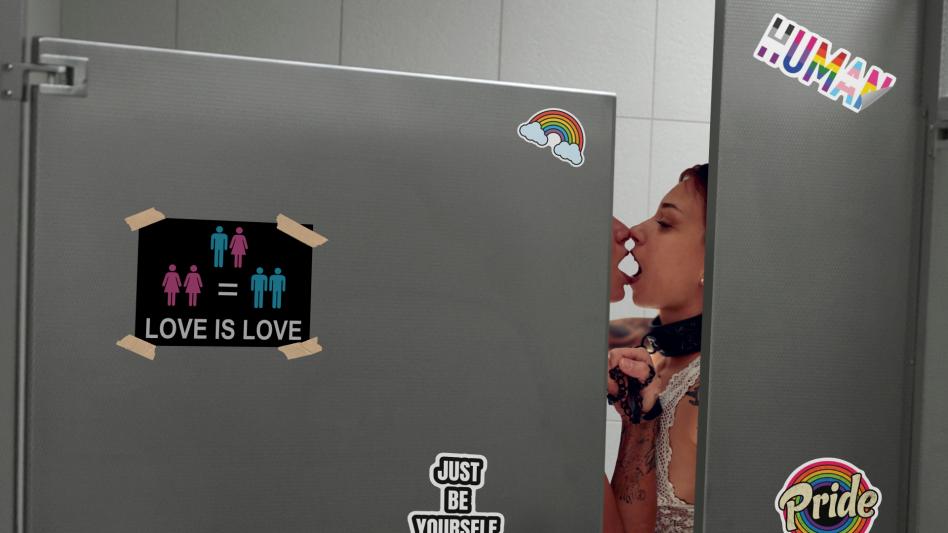 Humboldt Park—Local trans woman Juniper West, 22, shattered norms and defied rainbow capitalism this past weekend when she organized a radically kinky, abolitionist-centered pride festival in a dive bar public bathroom stall with her girlfriend.
West named Marsha P Johnson, Leslie Feinberg, and West's other girlfriend, Eva, as major sources of inspiration for the landmark celebration. The event officially kicked off at 12:39 AM in the bar's second grossest bathroom stall that still had a door on it.
"It's like the dyke march, but without the march," said West. "We needed to create a space where queer people could feel loved without worrying about corporations hijacking their identities or fascists policing their bodies. We also needed a space where I could get some bomb head."
Her girlfriend, Jess Auburn, 25, is a relatively long-time collaborator of West's, with the two immediately hitting it off when Auburn messaged her "can i ffuck you" two weeks ago. Since then, the dynamic duo has graced the Humboldt Park area with a variety of inclusive LGBT events, such as fucking at each other's apartments, bailing on an orgy, and pissing on a mutual friend at the park. 
"It's incredible that Juniper and Jess were able to pull this off," said historian and trans elder Lou Mortenson, 19. "In the past decade, women have attempted to organize sex in library bathrooms, locker rooms, and even in their own homes. Unfortunately, most cancel because they have a tummy ache or fall asleep."
The city's first annual Let's Fuck in the Bathroom Fest 2022 hit a high point at the thirty minute mark, when West gave an impassioned speech highlighting the importance of transgender women in the LGBT movement, while also touching on the role of religion in the community. 
"Fuck yeah, oh fuck. God," said West, in a particularly emotional segment. "Jesus girl. Fuck. Mhm. Oh yeah, that's so good."
Although the bathroom venue proved only large enough for just the two organizers, West assured attendees that there was more space in her car, where she would "fist just about anyone." Fest-goers interested in the 2006 Toyota Camry Bisexual Remembrance Fisting Event can RSVP by messaging West on Signal or Grindr, or just showing up whenever. 
Of course, other community members helped make West's dream possible, such as Daniel Stern, 47, owner of the gay dive bar Uncles & Nephews. When asked for comment on the groundbreaking festival developing in his public restroom, the staunch ally replied "What are you talking about?"