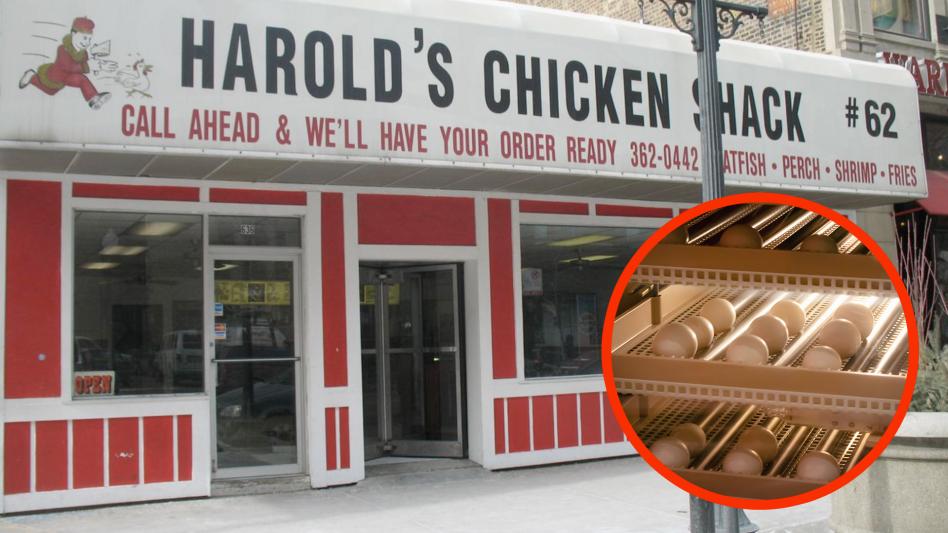 NEAR SOUTH SIDE — Upon receiving an order last Thursday afternoon, Harold's Chicken Shack employee Derrick Young, 23, reportedly began the preparation of a "½ Dark" 2 legs 2 thighs chicken dinner meal by switching on the in-store incubator and placing a fertilized chicken egg inside.
"It takes a few minutes to warm up, but once this beast gets up to speed it's only about 3 weeks until it hatches," said Young, who has been working at this location for 1 year, or the span of about 2 and a half chicken orders.
After the hatching process, Harold's employees look after the chicks until they are fully grown, about 18 weeks time.
"We keep them out back in the coop and make sure to feed them and play with them in between taking orders. We really bond with them, which makes the next part really tough."
Chickens are then processed by the in-house butcher, Anthony "Normal Tony" Panzorelli, 35, who began several weeks ago and refused to tell us where he had worked previously.
"He's nice, but kind of odd," remarked Young. "Every time he butchers a chicken he reflexively says 'The Don says hello'. Don't know what that's about, but he's good at his job so I don't say nothing."
Once the chicken is processed, employees begin stoking the fire and pressing seeds to produce the oil in which to fry it.
Customers made to wait upwards of 21 weeks for an order don't seem to mind the protracted process.
"It's the best chicken in the world," said Shelly Davis, 45, a longtime customer who has never left Chicago, as she absolutely baptized her chicken with mild sauce.
At press time Derrick Young was packaging up an order due today and, realizing he forgot the coleslaw, began rummaging around the back looking for some cabbage seeds.