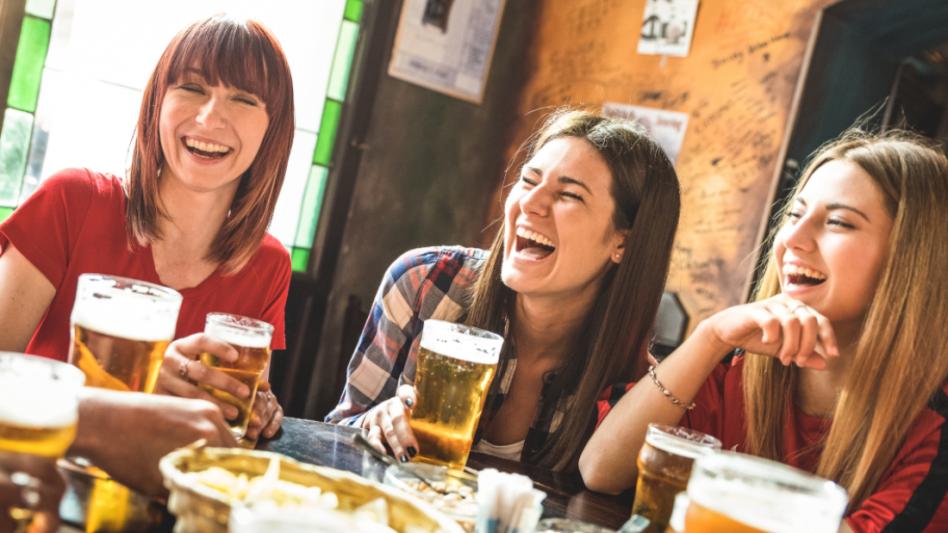 As Chicagoans begin to return to bars and restaurants around the city, the city's health officials have issued warnings, citations, and even closures to venues caught breaking the city's phase four guidelines. Chicago's Department of Public Health has now issued a strongly worded advisement recommending that Chicagoans avoid crowded bars "unless it's Jessica's Birthday."
"We understand that people are excited about restaurants and bars reopening as part of the phase four re-opening plan," said Dr. Allison Araway, Commissioner of Public Health, "But we can't get carried away. The uptick of cases in neighborhoods like Lincoln Park and Lakeview amongst people age 20-35 show us that young people in these neighborhoods are not taking precautions seriously. I can not advise going, maskless or not, into a crowded bar right now. That is, of course, unless it's for Jessica's birthday.
Jessica, last name withheld, 26, a paralegal who lives in River North, was especially exempt from the Department's advisement due to her long-planned upcoming birthday outing.
"We've seen a sharp increase in Covid-19 cases in Chicago that can be attributed to young people crowding into bars. Many are not taking social distancing or wearing masks seriously, and bars are either powerless or unwilling to enforce these guidelines." said Dr. Marcus Estevez, President of the Chicago Board of Health, "But we left out Jessica's birthday. She's been really looking forward to it, so we thought it would, like, suck if we told her to cancel."
"She's having a '27 Club' themed night out," said Dr. Araway, in reference to the apocryphal connection between the deaths of several celebrities at age twenty-seven. "Everyone has been encouraged to wear tees with, like, Jimi Hendrix or Kurt Cobain on them," continued Dr. Araway, giddily.
"Oh my god, that's so funny!" confirmed Dr. Estevez. 
The 27th birthday celebration of Jessica, which is set to start at Country Club in Wrigleyville and head northward, is exactly the sort of gathering that the Department ofPublic Health has advised to avoid, but despite details gathered from Jessica's Facebook invite to the event such as "touching/hugging/making out encouraged" and "no masks, i [sic] want to see your pretty faces!!!" attending the informal birthday pub crawl has still been exempted and even encouraged by the official Department of Public Health communications.
"ArE yOu ReAdY tO gEt DoWn??" read an email subject line between officials in the Department of Public Health that outlined new recommendations that even 50% capacity bars still present a public health risk, as well as "what shirts are you all wearing? I'd like to call Nat Jaffe." The email, sent from Dr. Estevez on behalf of the Board of Public Health, repeatedly expressed concern that employees and owners of local bars and restaurants would be unable to maintain the standards needed to prevent the spread of Covid-19 in enclosed spaces, as well as increasing concern that someone else was wearing a tee-shirt depicting dead jazz pianist Nat Jaffe (1918-1945). 
"I do think people need to be careful," said Jessica, already three drinks deep, yelling over the music . "But, like, we need to remember that we're people too, you know? I think being careful and not exposing yourself to the virus is so so so important, but I think the Department of whatever is right: We need to live our lives. Like it or not, the country is reopened, and we have to like, deal with it. Some people do that by going back to work or whatever, and some people do that by celebrating birthdays or 4th of July or just Thirsty Thursday. They're. All. Valid," she concluded, rhythmically punctuating her words with claps.
"If you follow our guidelines and take extra precautions, I think you'll be fine," said a visibly tipsy Dr. Araway, "but also feel free to disregard our recommendations if there's something you really want to do, or a party you really want to attend. Jessica's so cool! She deserves a big birthday bash! If I get coronavirus it's like, whatever."