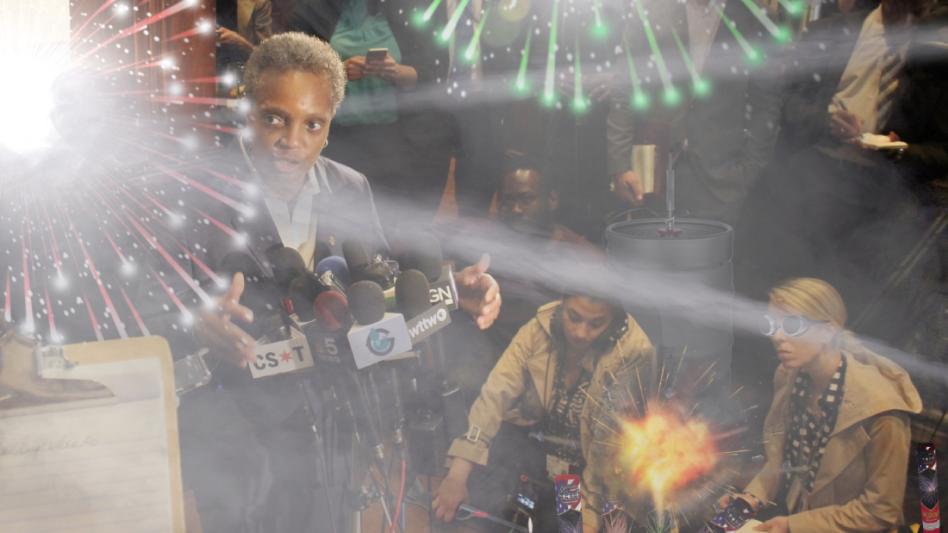 CITY HALL — With the 4th of July weekend rapidly approaching, Mayor Lori Lightfoot held a press conference yesterday urging restraint as the city continues to move into phase four of reopening. Despite pleas from the Mayor to "hold back a bit on the partying" and to maintain social distancing, the excited crowd continuously chanted "U.S.A" and lit off fireworks throughout.
"Please, can you put that out, sir?" The Mayor repeatedly reminded journalists, representatives of Chicago's hospitality and tourism industries, and several shirtless men in American flag swimsuits.
While dodging the projectile from a "roman candle" style firework, the Mayor reminded the crowd that while Chicago is transitioning fully into Phase Four, it wasn't an excuse "to get buck-wild-shitfaced all weekend." 
"I can't stress this enough, people. You just need to not get insane, lit, faded, goofed up, destroyed, wrecked, blended, wasted, or drunk all weekend," the Mayor said, nearly inaudible over the din of firecrackers, poppers, and an increasingly loud chant for the Mayor to do a kegstand.
"Kegstanding is exactly the sort of activity I'd like you all to avoid this weekend," the Mayor reminded the crowd before responding to a serval inquiries from the increasingly smoke and spark filled room.
While struggling to light a mortar, Peter Grand, 43, a contractor, expressed his concern that Chicagoans are "the hardest partying fuckers alive" and were unlikely to follow City Hall's recommendations.
"What if we just bleach the tap in between keg stands?" inquired Grand to rapturous applause as the mortar blasted a hole in the ceiling directly above him. "Also, Mayor Lightfoot are you going to come to my pool party?" 
"What Chicagoans need to do is just this once not descend into hedonistic madness." said Mayor Lightfoot, concluding her remarks while several loud explosions were heard from the floor above her. "Don't go to a thousand person yacht party, don't have a cookout and bring your entire extended family over to eat lukewarm potato salad on your twenty-square foot front yard. Don't go maskless to sweaty Wrigelyville bar to pay $8 for tallboys of Budweiser in limited edition camo cans! Just stay at home, keep your distance, and maybe just ruminate on what America means to you."
Immediately following her remarks Mayor Lightfoot was chased off stage by a volley of bottle rockets while the crowd sang an off-key, screamed version of the national anthem. ​