Lounging Chicago Police Still Somehow Destructive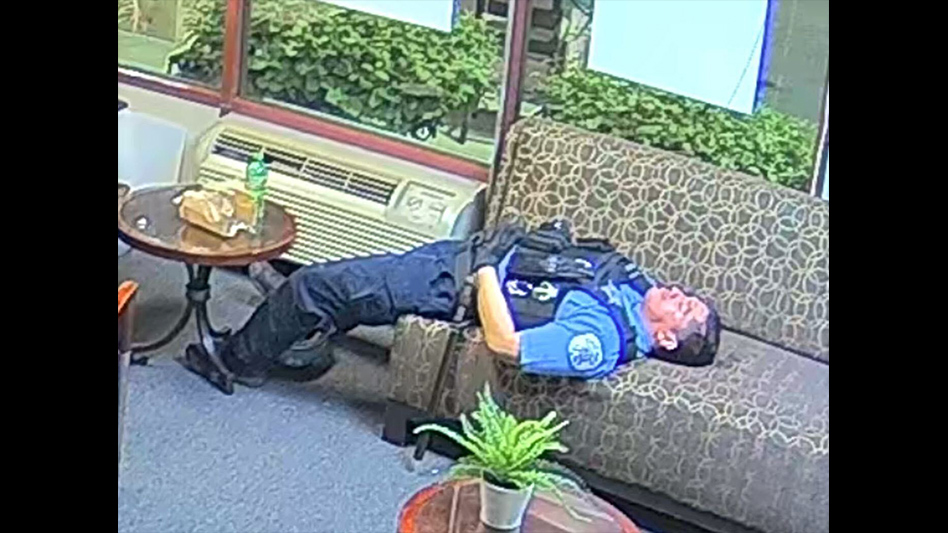 WASHINGTON PARK— As the Chicago Police Department responds to ongoing protests since the police murder of George Floyd in Minneapolis on May 25, the department has also been forced to reckon with its own uncomfortable truth: even while just lounging around, its officers still manage to cause damage to their community. State Congressman Bobby Rush, the mayor's office, and local business owners confirmed this week that as many as 13 officers entered Rush's campaign office during protests on June 1 and then laid still for hours, nonetheless causing significant economic and emotional injury to the surrounding businesses and Rush himself.
Surveillance video of the incident recovered by Rush's staff reveals that any infinitesimal good that the officers could have offered to their community was erased by their inaction during this four-hour period. "Actually, anything would have been better," said James Miller, 30, a manager at the nearby JJ Fish and Chicken. Other business owners agreed with Miller as they conducted extensive and costly repairs to their facilities, without any assistance from the dozen able-bodied officers next door. Congressman Rush also noted that the officers somehow managed to insult him personally during the incident, leaving "a single dollar bill on my desk as a breathtakingly lazy slight" to the 50-year veteran of Chicago politics.
In the wake of the video's release, several anonymous officers have reached out to the Genius Herald to defend their transformation of Rush's office into a "little clubhouse." One officer simply claimed that "we was bored of yellin' at people and standin' in a line, and we didn't wanna walk da few hundred feet to the precinct. So we just sorta sat down where we was." Other officers confirmed that CPD "basically takes an open window as an invitation to go in and do what we want" and "we've done dis tons of times, way more than people know. We get sleepy a lot." 
Mayor Lori Lightfoot reprimanded these officers at a press conference Thursday, pointing to the more than 65,000 9-1-1 calls and the 130 officers injured over the weekend of the 29th. "Even though they weren't arresting peaceful protesters, or committing extrajudicial violence like I pay them to do, they were surprisingly harmful to their city and fellow officers." Offering her support for Rush, Mayor Lightfoot committed to stopping this kind of "senseless loafing;" none of the officers involved will be allowed to "hide behind the badge and act like they did something, anything at all." Lightfoot promised to "push for Chicago police to be more actively harmful," and will work with state lawmakers to that end. Governor J.B. Pritzker has promised to cooperate fully, noting that "Illinois has never had a more relevant reason to enact police reform," and thanked Lightfoot for her "tireless support of police officers, no matter what they've done."
---
Thanks for reading! While you're here, please consider donating to these worthy causes. Learn more at http://criticalresistance.org/abolish-policing
The Okra Project - https://www.theokraproject.com
Chicago Community Bond Fund - https://chicagobond.org
My Block, My Hood, My City - Donate to My Block, My Hood, My City here. 
BLM Chicago - Donate to Black Lives Matter Chicago here.
CrossRoads Fund - Donate to the Crossroads Fund here.