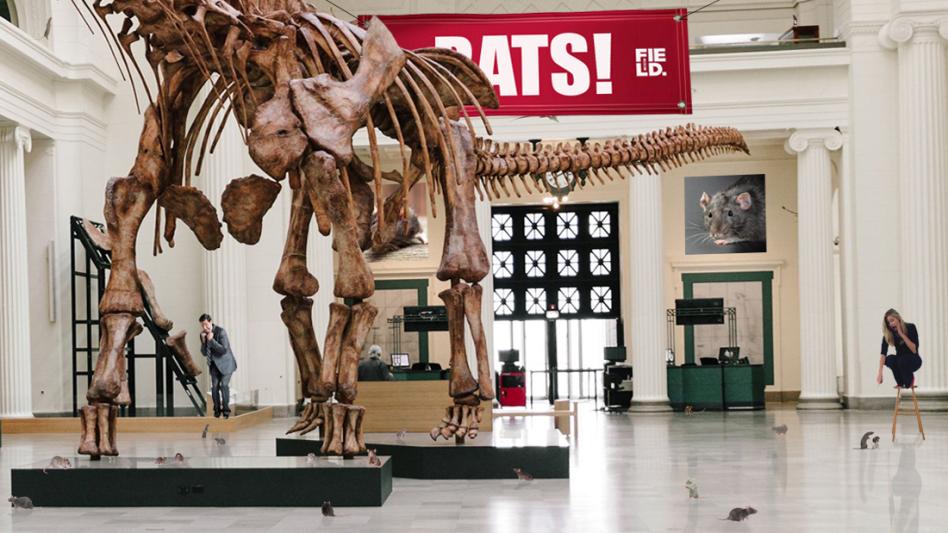 Famous Chicago landmark The Field Museum announced the opening of their newest exhibit: "Rats!: A History of Resilience". The new, permanent exhibit, which takes place on every floor and in every gallery of the historic museum, highlights the evolution of modern rat as well as giving visitors a chance to see numerous live rats.
In an announcement made in front of the museum's symbol, Sue the Tyrannosaurus Rex, Dr. Sandra Fenderton, curator of environmental science, and Dr. William LeVont, President, declared the new exhibit open and definitely not a way of rebranding the museum's reported rat infestation.
"When Dr. Fenderton came to me and said 'we should do a whole exhibit about rats,' I said 'what a great idea!' It's time we educated the public on the diversity and… tenacity of these urban conquerors. This is a planned exhibit, and we had these rats you see walking around there, there, and there brought in from a… special rat habitat."
"Wyoming!" chimed in Dr. Fenderton.
"Yeah, Wyoming, sure," continued Dr. LeVont. "I want to put the rumors of The Field Museum being overrun by rats to bed. This is a real exhibit we planned out, and having rats dart out in front of guests, leaving trails of urine on every surface, and chewing priceless artifacts are just parts of the realism we designed to give visitors a glimpse into this hidden ecological wonder: the rat." Dr. LeVont then shrieked as a rat hiding under his podium ran across his shoe.
Dr. Fenderton, who led the conception and execution of the exhibit, elbowed Dr. LeVont sharply before providing details about the new addition. "We here at the Field Museum are so excited to share this innovative, immersive new exhibit. Our vision to tell the story of the history of the rat was to have what we're calling an 'Open Gallery.' The rats are free to go wherever they want and we're powerless to stop them. If you ask one of our staff, they'll probably have a neat little bit of information about rats' evolution or whatever and if any of them say this museum is unsafe or rat-infested: They. Are. Fucking. Lying!"
The announcement concluded when the fossilized skull of Sue crashed to the floor of the museum and shattered after several rats chewed through the display's vertebrae. "That's part of it," informed Dr. Fenderton, "that's part of the exhibit."
The exhibit will be opening this weekend and will continue to expand as "the rats see fit."