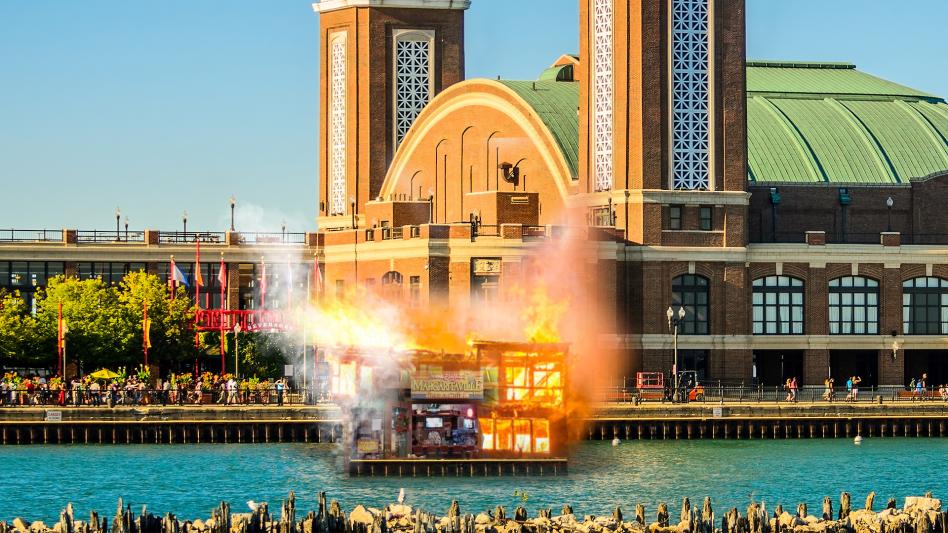 Navy Pier — After hearing the news of singer Jimmy Buffet's passing, employees of Jimmy Buffett's Margaritaville solemnly unhooked the restaurant from the rest of Navy Pier and allowed the restaurant to float freely into the lake. The shift manager then drew a bow and launched a flaming arrow at a casket of overproof rum, setting the Illinois location of the hallowed establishment ablaze. 
"When we heard of Jimmy's passing, Margaritavilles around the country were instructed to set them aflame in order to have his property follow him into Valhalla." said Cassy Larwood. "Bummer cause it's our jobs, but at least we didn't have to go with him, except for Pedro, the head bartender. He said he wanted to follow Jimmy over the rainbow bridge, Bifrost."
Cassy explained that even though he didn't die with a spear or axe in his hand, there is a level of chillness you can achieve where the Valkyries will just give you a pass into Valhalla. 
"Plus, surviving in the music industry for almost 60 years counts as a type of warfare."
As the overproof rum fire hit the deep fryers and the restaurant quickly burned, onlookers said they could hear the sounds of marimba and cool steel guitar coming through the smoke. Some witnesses even claim they saw the twin ravens of Odin, a sign that a warrior spirit had made the crossing.
"It was a beautiful sight from the ferris wheel," said Carol Weathers, a visitor to Chicago from Colorado and a self-described "Parrothead." "I didn't realize Jimmy was Nordic, I guess I just thought he was from Florida. My husband told me he wanted to swim out to the burning Margaritaville to join Jimmy as a bannerman, but I said 'Hank, you're 57 and you ate three pounds of steak at Harry Caray's, you will have another stroke and we haven't worshiped Thor in years.'"
Fans of Jimmy Buffett hoping to toast his memory at the Margaritaville will need to wait and see if another location is built, but in the meantime are encouraged by the Buffett estate to remember Jimmy through his classic songs, such as "Cheeseburger in Paradise," "Come Monday," and "Drømde mik en drøm i nat."