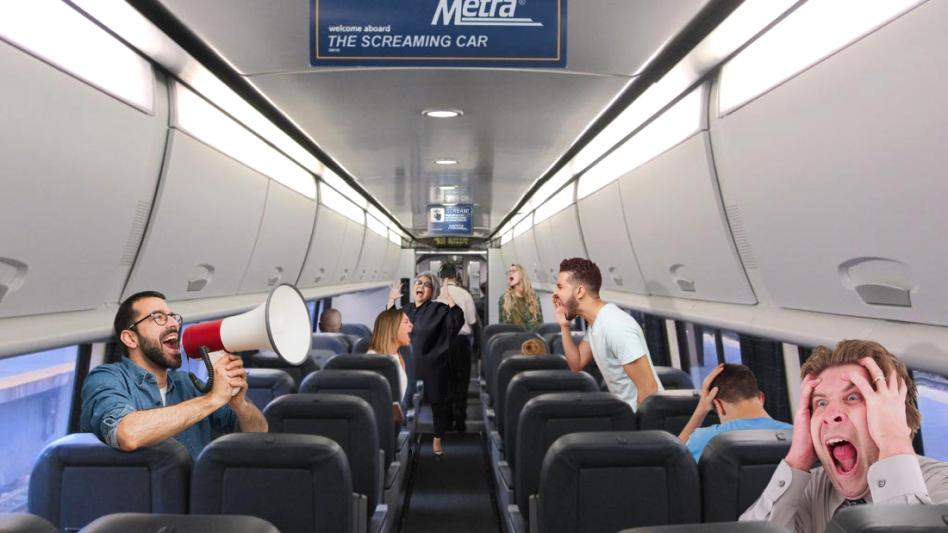 WINNETKA — Metra officials announced Wednesday that all quiet cars on all Chicagoland rail lines will convert to sanctioned "screaming cars" effective January 1st, 2020.
Metra CEO Jim Derwinski provided a statement about the changeover. "Metra has always taken pride in serving the needs of commuters all across northeastern Illinois. The quiet car was originally conceived as a way to reduce some of the stress that an average workday commuter faces. However, recent research indicates that simple peace and quiet is not enough to ease the mind of today's worker, and that's why we're introducing the new screaming car on all our commuter lines."
Derwinski also noted that workers can scream about any topic they wish once aboard the screaming car, including politics, healthcare premiums, environmental collapse, stagnant wages, gentrification, or simply shriek endlessly into the void until arriving at their destination.
Many Metra regulars are excited about the changeover. Daily UP-N line rider Janelle Ford, 37, said, "This is something I really need in my life, especially on the ride home. After a long day at work, dealing with my passive-aggressive boss and all my rude coworkers, I'm about ready to explode by the time I pick my kids up. This will let me just take out my rage on the train and give me the strength I need to listen to my kids whine at me while I cook dinner."
Morris Demming, 52, of Skokie, said he has been commuting to his job in the Loop on the El for years, but will most likely switch to Metra just to take advantage of the screaming car. "I'm looking forward to letting the rage that's already seething inside me on my morning commute explode out into a primal scream of agony and existential despair." said Demming.
Metra officials have said that, based on the feedback they've received so far from riders in advance of the change, they are already considering increasing the number of screaming cars on each train in 2021, should the demand continue to grow.
"The feedback so far has been extremely positive" said Derwinski. "Metra is committed to serving the changing needs of our riders, and today that includes an outlet for the explosive rage, simmering frustration, and guttural angst that is growing greater each day inside us all.