Completed Cloud Gate Given Brushed Steel Finish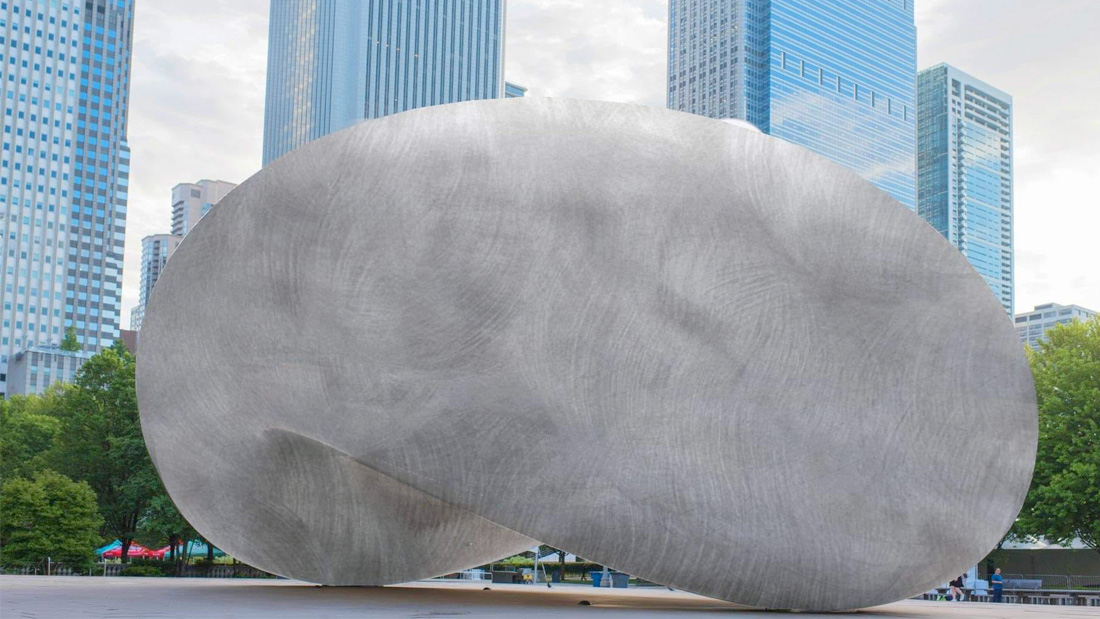 MILLENNIUM PARK — After languishing unfinished for over a decade, the iconic sculpture popularly known as "the Bean" has finally been completed. At a public unveiling today, the finished sculpture was revealed with a brushed steel finish, as originally intended by British artist Anish Kapoor. When Kapoor was selected to design a sculpture for Millennium Park in 1999, Cloud Gate was projected to cost just under $6 million. By 2006, costs had ballooned to $23 million and work on the sculpture was forced to abruptly shut down, just after its stainless steel external shell was installed. "Funds simply ran out," said Steve Clementi, the head of the committee who oversaw the sculpture's construction. "But, the massive popularity and success of the piece over the past 13 years have allowed us to finally finish it. If people loved Cloud Gate before, I can't wait for them to see it now."
To bring the sculpture to completion, a team of artisans specializing in the traditional practice of brushing steel was brought in from Italy. The crucial, final step took only an afternoon, the sound of a dozen angle grinders filling the summer air. 
Kapoor, responding to questions sent over email, said he was "thrilled" to see his artistic vision fulfilled. "Before, the [incomplete] piece didn't work, it wasn't coherent." Josie Wilson, a Logan Square resident who attended the unveiling ceremony, agrees with the artist: "You can finally just enjoy the bean-shape without being confronted by your own reflection."
As a final note, Steve Clementi would like to remind members of the public that physically interacting with art is rarely permitted, be it in a museum or outside in a public space. People planning to visit the newly completed sculpture in Millennium Park are warned to not touch Cloud Gate, as the textured surface is now incredible jagged and sharp.