Mayor Lightfoot Infiltrates, Then Busts Record-Breaking 1000 Person Fuckfest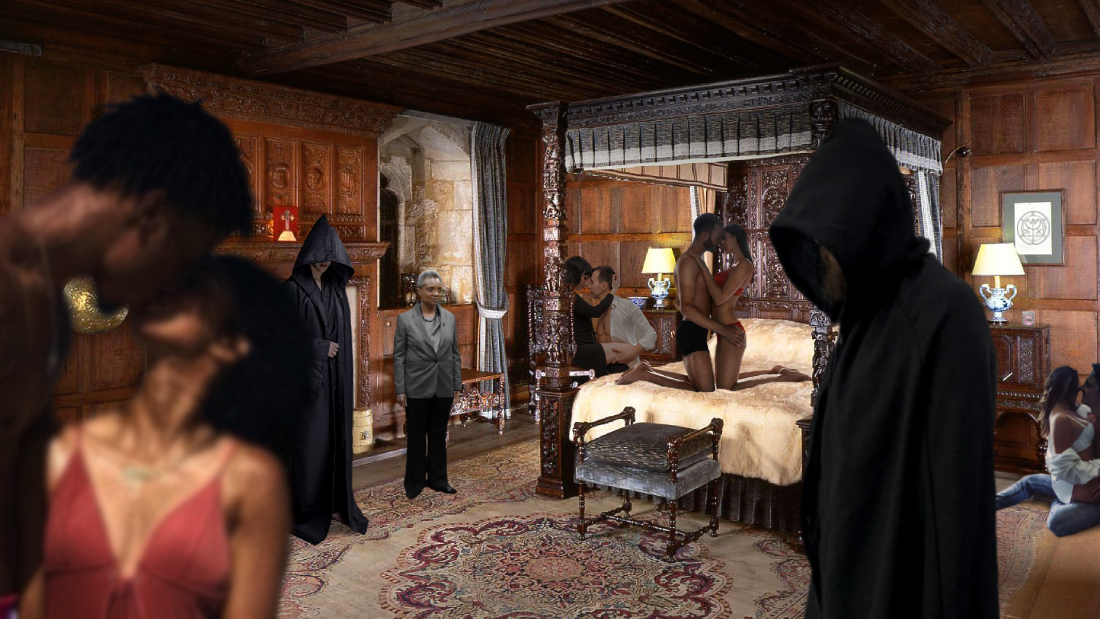 WINNETKA, IL—Capitalizing on the image rehabilitation and damage control provided by breaking up small gatherings and telling Chicagoans to go home from her car, Chicago Mayor Lori Lightfoot has upped the ante in a major way by infiltrating and shutting down The Carnival Of Sin, the North Shore's premiere hotbed for debauchery, sickos and sexual freaks for breaking shelter-in-place this weekend.
Long a closely-guarded secret known only to Chicago's horniest underclass, a crack team of Chicago Police Department learned the Carnival was to be held in a tasteful Tudor-style mansion on the Winnetka lakefront approximately three weeks ago, giving the mayor's office ample time to formulate a plan to bust this illegal gathering.
"We asked Lori what she was planning on doing," said Sgt. Royce Howard, 36, "but she really wouldn't give us anything. All she kept doing was mumbling, 'any of you could be a pervert, not saying anything,' and staring into the middle distance, so eventually we just kind of dropped it."
According to eyewitnesses at The Carnival, Mayor Lightfoot apparently walked in the front door wearing a grey, overlarge pantsuit and started wandering from room to room, softly announcing that she was Mayor Lori Lightfoot and that this illegal gathering needed to be concluded. 
According to bystanders, after about an hour of this, several SWAT teams broke into The Grand Procession Of Sex and started subduing Carnivalgoers with mace, zip ties and handcuffs, much to their delight.
"I guess operational security could have been a little better on the part of The Carnival, yeah," said A Woman Dressed As A Sexy Clown, 31, who was in the process of being arrested by CPD for her part in the illegal get-together. "I thought it was a little weird that there was just a woman in an ill-fitting pantsuit wandering around the Flesh Rodeo near the back of the house, quietly telling people to go home, but it's The Carnival of Sin—you can never tell what kind of freaky fetish someone is bringing to the table."
"It's so funny that it was her," said A Lube-Slick Man Locked In A Dog Crate Wearing A Peacock Mask, 23, while being carried into a CPD squad car. "I always thought of myself as someone who would recognize a public figure in an unexpected setting, but even when she started saying, 'I'm not kidding y'all, go home!' I was just like, 'oh my GOD, this sounds so familiar, where have I seen this woman before?'"
"Plus, then my mistress accused me of having a wandering eye," he admitted, "and, well—that got me a few hours in The Crate."
Sweat Hog, 45, a local pervert and media personality who managed to avoid the police dragnet by showing up late to The Carnival in a borrowed Nissan Altima, was highly critical of the way the mayor had conducted this raid.
"It's not about The Carnival per se, although that is disappointing" he said, loosening the lacing on his corset and adjusting his leather pig mask. "It's about the way this is going to be construed. You know that Mayor Lightfoot is going to use this in some ham-handed display about how well Chicago is taking quarantine, even though she didn't even close Chicago Public Schools until well after Gov. Pritzker initiated a statewide order. It's just so two-faced, and this is coming from someone who's supposed to be in Schaumburg with his wife and kids."
"She certainly won't be getting the pervert vote next election," he said. "And there's more of us than you think."