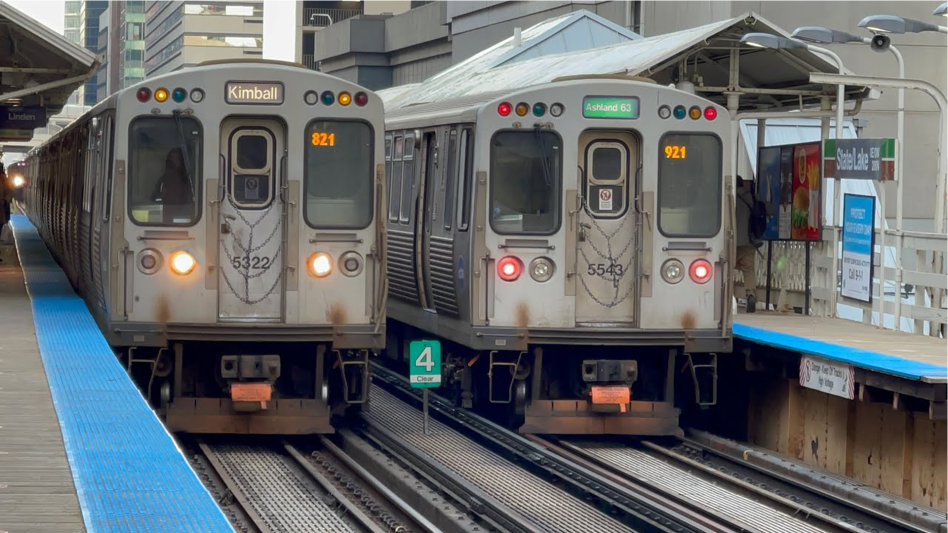 THE LOOP — Whispers of a break-up between the city's favorite couple seemed to be confirmed this morning. Sparks were flying in the worst of ways as the Brown Line zoomed past the Green Line at the State & Lake stop, leaving commuters stunned and infuriated. 
Although the couple was first spotted together this Fall, it's unknown when they initially crossed paths but sources say they first hooked up at the CTA's holiday party. Their ups and downs have largely been public, typically occurring on Lake St., Wabash Ave., Van Buren St., and Wells St. 
Young passenger Ann Darns witnessed this morning's transgression and is a self identified member of the "Green Girly" fanbase. "My green goddess is better off now. Brown has been running its tracks waaayyyy too close to Red for weeks now. We knew something was up." 
Indeed, social media was buzzing last month when the Brown Line was spotted picking up an extra route for the Pink Line. All three parties remained silent amongst the rumors, even when the hashtag #PinkStink was trending for three days straight. 
Passenger Rick Dunk had a different, albeit, boring take on the breakup, "Shouldn't you guys be reporting on the Blue Line shutting down its most populous stops?" 
In terms of politics, It's not a stretch to assume that this fiery love affair contributed to the CTA being a hot topic in the recent mayoral elections. For many candidates it was a large part of their platform, and for Paul Vallas it was the first time he learned what "that noise underground" actually was. 
When reached for comment on how the breakup might affect train schedules, incoming mayor Brandon Johnson was infuriated.
"Ghosting passengers is one thing, but the trains ghosting each other? That's a whole new policy plan I have to come up with now," said Johnson before wandering away, muttering something about funding mental health programs for trains. 
When a Green Line conductor was asked for comment, they referred to our team as "sick" and "perverts." However, the Brown Line conductor gave us all the hot goss, "I knew it. I knew something was off. We haven't been hugging the rails the same way. Haven't embraced the curve of the Chicago/Franklin stop like we used to." 
The Brown Line conductor said they've attempted to console the train, "I tried to use my mic to ask my big guy what was wrong but the passengers kept yelling over me about a "fight happening" or "someone taking a crap in car four again."
For now, it seems the city's will-they-won't-they status has been passed onto the Crown Fountains, who have somehow learned to makeout. Ah, the scandals of the stars!