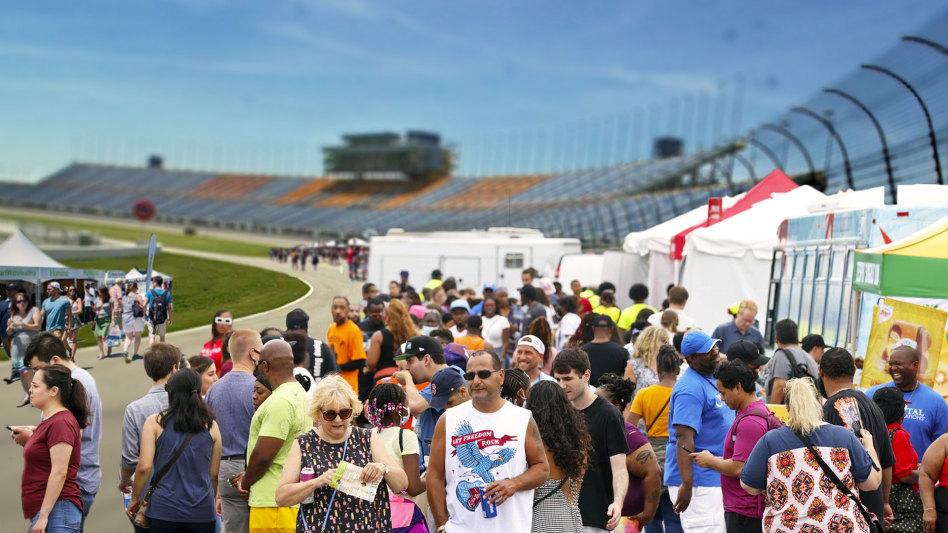 JOLIET — With Lollapalooza and NASCAR events taking up Grant Park for most of the summer, Chicago's famous free food fest, Taste of Chicago, has found a new home. While Grant Park is occupied by drunk teenagers and racecars, Taste of Chicago will be setting up at the Chicagoland Speedway outside Joliet city limits.
"We're excited for this year's festival, and happy to have found space to accommodate over 30 vendors," said Vanessa North, an organizer for Taste of Chicago. "Sure it's fifty miles away from our original location, has virtually no cover and is a racetrack, but this is our only option. They offered us Navy Pier, but you really can't hold this event that close to seagulls."
Taste of Chicago has been a part of Chicago summers since 1980, quickly expanding out of its original location on Michigan Ave. into Grant Park, where it's been ever since, except for the two pandemic years where it was held in secret in a bunker under Gene & Georgetti's Steakhouse. With the park occupied, Taste of Chicago had to adapt.
"We've set up all the favorites of Taste of Chicago around the mile and a half track at Chicagoland Speedway," said North. "Vienna Beef, Gibson's, Wow Bao, and more! Attendees just need to show up with an empty stomach and open eyes. There will be drag racing and some track tests going on that they couldn't reschedule, so everyone needs to watch out for cars."
"I love Taste of Chicago, I go every year," said Bill Holland, 57, a self-proclaimed gourmand, "I can't believe they'd kick it out of Grant Park for an event no one asked for or wanted. Thanks to Lori Lightfoot I'm going to have to travel to Joliet to have a chance to eat Garret's popcorn outside while getting a sunburn. I hope she's happy, but I'm sure she's not."
With schedules still being adjusted, it's unknown where Chicago's other summer festivals will be relocated to. Chicago Blues Festival is in talks to move to Kells Park, a 1.97 acre park across from the Aldi in the Humboldt Park neighborhood, and Chicago Jazz Festival has announced it will be doing a DIY show at "a friend's house in Pilsen, BYOB."