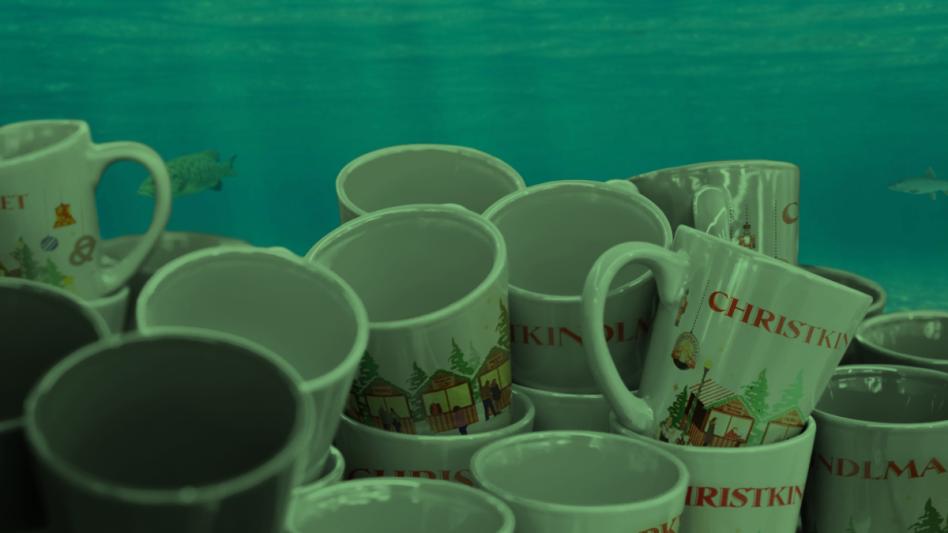 LAKE MICHIGAN — With this year's Christkindlmarkets canceled due to the COVID-19 pandemic, organizers have made the decision to dump the entire supply of 2020 gluhwein mugs into Lake Michigan to create an artificial, and very festive reef.
"We'd already received our yearly order of small, boot shaped mugs from the picturesque German town where they're hand painted by elves who are certainly not children nor prisoners," said Bernadette Dario, 48, Director of Merchandising for Christkindlmarket. "We had a full stock of mugs and nowhere to put them. We mulled either taking a marker and adding a line to make it look like a '2026' or to just add another zero and wait for 18,180 years. But storage costs for 18,180 years were, understandably, high."
"I came up with the idea to use the mugs to build a reef," said Will Ferguson, 32, Beverage Service Manager, "People always say I'm a bit of a 'hippy,' and yeah, the label is accurate. I saw those mugs and thought 'hold up, I think we have an opportunity here to do some real good." 
Starting Monday, ships carrying the approximately forty thousand mugs will dump their cargo into Lake Michigan near Montrose Beach, forming a festively-decorated artificial reef that will allow natural corals to slowly take hold and proliferate, creating a merry ecosystem for sharks, tropical fish, and a wide variety of microscopic plant and animal life.      
"It's not going to be a reef so much as a 'big, underwater pile of mugs,'" said Dr. Mandy Xi, a Marine Biologist at Shedd Aquarium. "There's no coral in Lake Michigan to begin with, so there's not really a need for an artificial reef, festive or otherwise. I guess maybe some perch and algae might make their homes there, but even if there was coral in the lake, the glaze on most commercial mugs prohibits coral growth. I'm also pretty concerned about everything else they're dumping." 
In addition to the mugs, Christkindlmarket organizers have announced that several large evergreen trees and hundreds of thousands of barrels of pre-made gluhwein will be dumped to both anchor the artificial reef and to "really get the holiday spirit going down there."
"Since humans can't enjoy the yearly tradition of choking down a cup of boiling hot wine that smells like a cheap scented candle for a cute mug, we thought, 'hey, maybe fish would like a turn,'" said Dario. "I like to imagine they're down there in their little mug village — with little seaweed trees decorated with jellyfish lights — and they're all cozy and just sippin' away on some yummy mulled wine. An artificial reef turning into a real home. Isn't that a precious holiday thought?"
"Oh, any organism that comes into contact with the wine is going to pretty much instantly die. I imagine fishermen on the lake are going to be pulling up nets filled with dead fish that smell like fruit cake for years after this," said Dr. Xi. 
Inspired by the generous holiday donation, Bank of America has announced plans to melt down all of the medals that were made for the 2020 Bank of America Chicago Marathon into a projectile that will be fired at the moon.