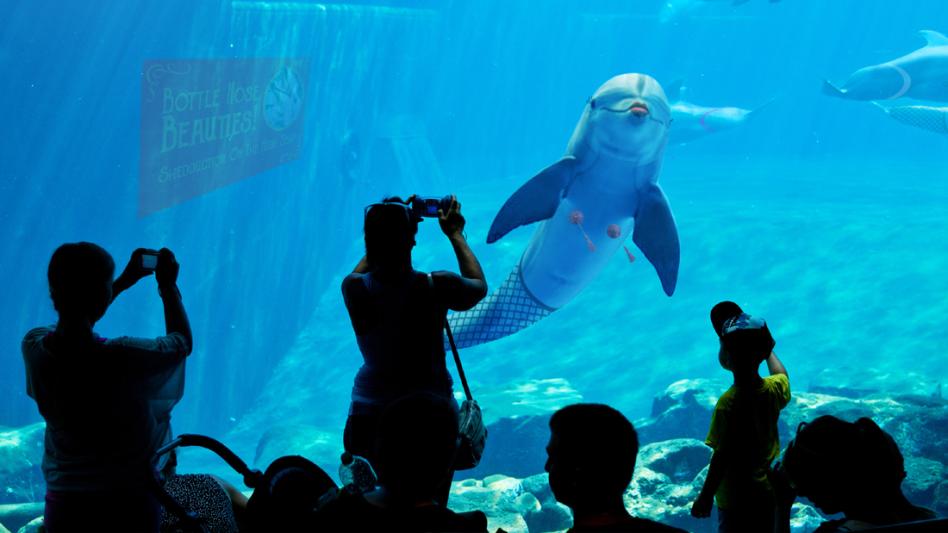 MUSEUM CAMPUS—Shedd Aquarium announced a new adult-oriented addition this week to their long-standing, widely known dolphin show. Beginning next month, aquarium visitors ages 18 and up can purchase tickets to the all new burlesque-themed show, Bottle Nose Beauties: Shedduction On The High Seas, offered on Fridays and Saturdays.
In a recent press release, Shedd President and CEO Bridget Coughlin gave the following statement about the new entertainment lineup: "Shedd Aquarium has long offered our beloved family-friendly dolphin show both as a way to enhance guest enjoyment as well as further our mission of educating the public about the lives of these animals. The new Bottle Nosed Beauties show will not only entertain our adult guests, but it will also teach them that dolphins, sea lions, and other marine mammals can be extremely sexy, as well as athletic."
Todd Simpson, a senior dolphin trainer at Shedd, says he has discovered a whole new side to dolphins while working on the show's debut. "I knew dolphins were highly intelligent, emotional animals, but what I didn't know was just how sensual they could be", he said. "At first we wondered if they would be able to learn typical burlesque dance moves like the tassel twirl, or perform things like a derby hat tease without the benefit of hands…it turns out, not only can they do it, but they really seem to enjoy it; it's obvious to all of us that they get a real confidence boost out of it. It's just inspiring to watch them come into their own this way. And you'd be surprised how readily they'll wear a g-string."
Shedd officials say that aquarium visitors can expect to see all the usual animals featured in the regular dolphin show performing in the burlesque show, with the exception of penguins. Cary Blankenship, a penguin handler at Shedd stated that although penguins would seem an obvious choice for burlesque, given their tuxedo-esque pattern and willingness to fall into can-can-like formations, they simply aren't capable of any sexy movements. She noted that many weeks were spent trying to teach them movements other than waddling, but ultimately, it was in the penguins' best interest to leave them to their natural behavior.
Although there will be no human nudity involved in the burlesque show, President Coughlin remarked that guests should come prepared to be "titillated, delighted, and possibly walk away thinking about dolphins in a whole new way."