SOLDIER FIELD — In an adorable video released today, Shedd Aquarium and the Chicago Bears announced that the aquarium's beloved Magellanic penguins would be joining the football team's defensive roster till the aquarium reopens in 2021. The video, featuring really, really cute footage of the fightless seabirds exploring the grounds of Soldier Field, quickly spread on social media as Chicagoans rejoiced at our new adorable defensive backs.
"We've had some great responses to taking our little tuxedoed gentlemen out for field trips around Chicago," said Megan Handler, 30, head of Shedd's public relations, "remember when they went to the Art Institute? More like 'Art Insta-Cute!' Honestly, drafting our birds to the Bears just seemed like the next fun thing for those little rascals to get into! Also, their enclosure is being rented out for really specific sex parties while the aquarium is closed. We didn't want the birds anywhere near what's going on in those tanks right now."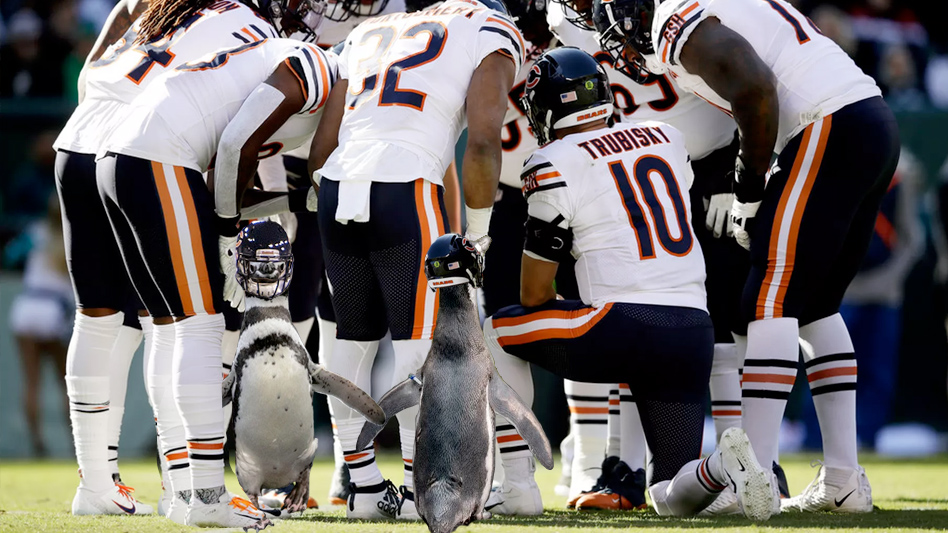 Darwin and Charlotte huddle up during their first Bears practice
"These fucking penguins can't play for shit," said Bears Coach Matt Nagy, "They can't run, they can't throw, and they have no mass for tackling. We ran drills all morning, and let me tell you, the guys were just running around them. Or jumping over them. Flightless? Ha, add 'talentless' to that list. I've got a franchise to run here and a new starting quarterback to pick. You think a chubby bird is going to fill that position? Fuck you."<
The penguins, which spent most of their first morning as the Bears newest, cutest players falling over and trying to pick bugs out of the stadium's artificial turf will play their first game against the Green Bay Packers this Sunday. Go get those cheese-heads, team!