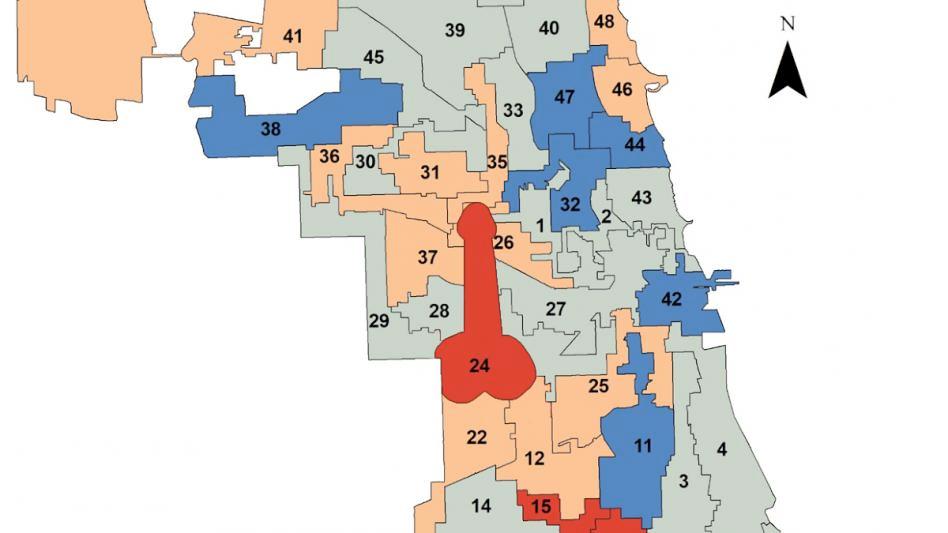 CHICAGO — The remapping process for Chicago's wards this fall has been nothing if not contentious. Months of argument in closed-door City Council committee meetings has culminated in public demonstrations and spats between the mayor, the Black and Latino caucuses, and (unsurprisingly) Ed Burke. However, now that the map has been released, it's clear we have a new problem on our hands: somebody used the new ward map to draw a ward in the shape of a dick.
Some aldermen were quick to defend the new ward map, despite its obvious depiction of genitalia instead of the 24th Ward. "As unpleasant as this process has been, we need to keep a civil head on our shaft-- I mean, our shoulders," said Alderman Scott Waguespack of the 32nd Ward, at the unveiling press conference. "The new 24th Ward is an unusual shape, for sure, but plenty of wards have unusual shapes. Look at mine, for instance," Waguespack continued, pointing to the map and taking a sudden step back. "Oh...it's touching mine," Waguespack muttered in horror before quickly walking off stage.
Other City Council members were not so impressed with the member on the map. Ald. Michael Scott Jr., who represents the 24th Ward, appeared incensed at the change to his ward, and turned on his fellow aldermen at the press conference. "I'm not surprised that some of you are little perverts -- looking at you, Ald. Burke -- but don't take it out on me and my constituents," Scott demanded.
Scott asked that the City Council launch an investigation into the dick drawing, as well as the other "childish" jokes. "Who crossed out '24' and wrote '69th ward lol' on the map and then 'only uncut districts' beneath it, hm?" asked Scott to the assembled aldermen. "I've got my eye on you, 2nd Ward bastards," he said, glaring at Ald. Brian Hopkins before storming away.
Representatives from the Chicago Advisory Redistricting Commission were also on hand, having proposed an equitable and democratically-generated alternative to the ward drawing process earlier this year. Melisandre Van Der Gruyk, 40, an activist working with the commission, told the Chicago Genius Herald that this outcome was just like countless other redraws in the past.
"Not only is this big dick on our city map inappropriate, but it makes an absolute mess of a ward," Van Der Gruyk said. "Long and thin, with pendulous round sections at one end and a delicate flanged tip at the other...it's slung across the map haphazardly in a way that doesn't actually align with any communities. Classic City Council behavior," Van Der Gruyk sighed. "And besides," she elaborated, "it's not even an original idea -- look at the 35th Ward."
City Clerk Anna M. Valencia and Ald. Brendan Reilly, the council's president pro tempore, took the podium to conclude the press conference. "We're disappointed that somebody has penetrated this sacred, untarnished, trustworthy, respectable, clean, honorable, working process and made it a childish joke," Valencia said. "But rest assured, we'll figure out who did it, why, and most importantly, how. It's impressive, and I agree, a little bit funny."
Reilly was quick to reinforce the council's commitment to bring the dick-drawer to justice. "We aldermen craft that map in utmost secrecy in order to gerrymander the absolute fuck out of Chicago, not to draw an erect penis with a little bit of cum coming out. It's a disgrace, and it will be rectified," Reilly intoned.
"One other thing," Reilly concluded. "Has anyone seen Mayor Lightfoot?"