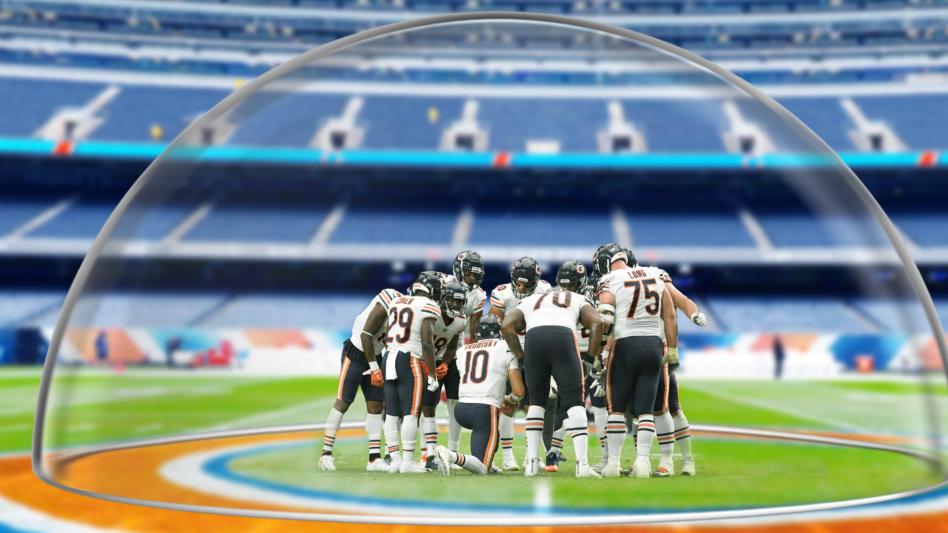 CHICAGO — In a last ditch attempt to keep the Chicago Bears from moving to Arlington Heights, Mayor Lightfoot proposed a series of renovations and improvements to Soldier Field. One key proposal is to construct a giant plexiglass dome over the team, effectively keeping them from going anywhere.
"The mayor is devoted to keeping the CHICAGO Bears here in the city," said Stuart Deboise, 38, a spokesman for the Mayor's Office. "Sorry for yelling, she's instructed us to really hit the 'Chicago' for emphasis. The mayor knows she's reaching the end of her...um, first term, and is looking for a big win. Trapping the Bears under a giant glass dome so they can't leave just felt like a natural progression of the mayor's policies."
"If there was a bridge we could have raised to keep them here, we would have raised it."
The proposal would see a plexiglass dome large enough to cover the entire 59 player team and select staff including Coach Matt Eberflus and several professional sports masseuses so the team can continue training as normal. Once approved by the city council and built by a Tesla shell company, the dome will be carefully lowered over the team when they least expect it.
"The mayor is aware that some aspects of her plan still need to be ironed out," said Deboise, "How do we feed and supply air to the team while they are endomed? How do we lift it up to let them out to play games? What is the effect of sunlight magnified through dome glass, and will it cook the people inside? The mayor is aware of these challenges, but the most important thing is to keep the team in this city at all costs."
The project is currently estimated to cost taxpayers nearly $5 billion, which the Mayor's Office has assured will be returned to Chicago in revenue from future games the Bears will play once they agree to stay forever and are released from the dome.
"For us, this idea is a win-win," said Deboise, "either the Bears continue to play in Chicago at our historic Soldier Field, or we have a new tourist attraction in a giant glass dome filled with the sun-bleached skeletons of the 2022 Chicago Bears. People love Cloud Gate, and that thing is filled with skeletons."