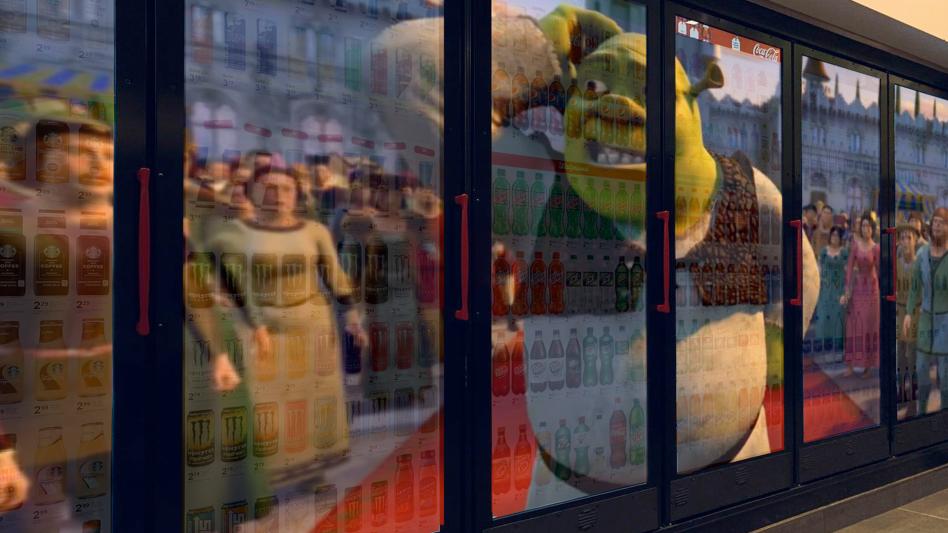 WICKER PARK — In a recent move to modernize the customer experience, Walgreens around the nation have started to install cooler doors with screens that display the contents of the cooler as well as advertising. The project has hit some snags at the Wicker Park location of Walgreens, where the cooler doors keep playing the 2004 animated comedy sequel Shrek 2.
"We were so excited to be chosen for the new screen doors by corporate," said Josh Joshua, 37, an assistant manager at the Damen and Milwaukee Walgreens location, "for too long our customers have had to look through glass to see what was inside the coolers, and the whole time nothing was being advertised to them. Now we have heavy doors with screens on them that show what's behind the door in a way glass never could. If we can solve our Shrek 2 problem we'll be unstoppable!"
According to Joshua, the doors started to play Shrek 2 in its entirety on a loop early this week. Employees have tried multiple solutions short of reading the manual, but Shrek remains.
"We tried hitting it, we tried unplugging it and plugging it back in, but it's still showing Shrek," said Melissa Halls-November, 25, a cashier, "at first it was funny, we were all like 'what? The doors are playing Shrek 2, the one where Donkey gets a dragon pregnant? That's crazy.' but now it's been days and we're kind of sick of hearing 'Accidentally in Love' by Counting Crows."
Employees and management alike have noticed that the malfunctioning screen doors have been a source of frustration for customers. According to employees, beverage sales have been impacted the most, and the constant opening and closing of the doors is making it hard to watch Shrek 2.
"We never could have anticipated that malfunctioning screens would make it impossible to tell what was in the coolers," said Joshua, "but that's what experiments like this are all about, right? Now we know!"
Walgreens corporate offices declined to respond to questions about the Shrek 2 bug in their new display system, only saying that "it was an isolated issue and probably a juvenile prank by one of the employees."
"I have talked to every employee to see if anyone would confess, but no one's claimed responsibility," said Joshua, "and personally I believe them. If I had to say what was going on here, it is that the doors are trying to tell us something. Something about Shrek 2, I guess? Maybe to be ourselves? That we don't need fancy doors to be cool? In a way, these screen doors are a lot like the potion Shrek takes in Shrek 2 to become a handsome man to prove he's as good as Prince Charming. But you know what, in the end he finds out Fiona loves him for him, even if he's just a plain glass door."
"Thank you for teaching us," said Joshua, tenderly petting the screen door — which was playing the scene where King Harold meets Puss in Boots at The Poison Apple — and asking to conclude our interview.