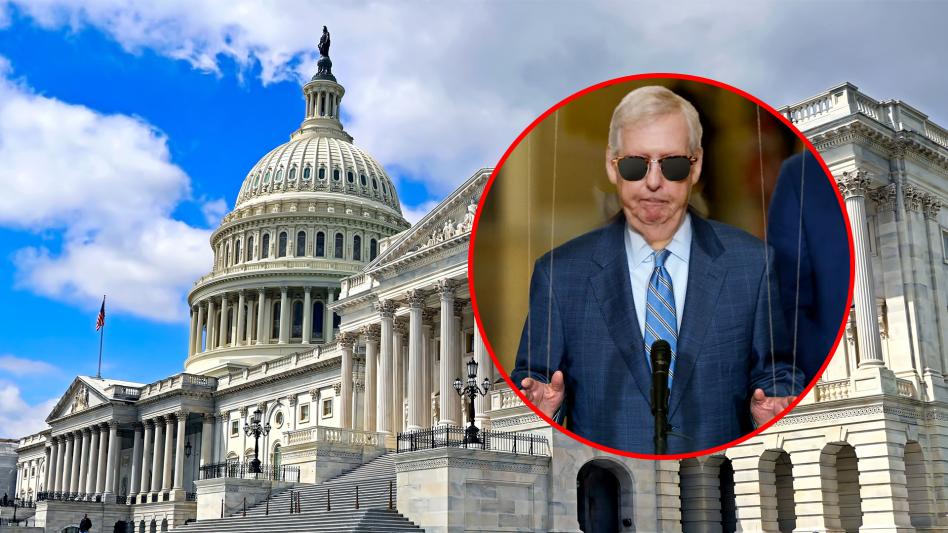 WASHINGTON, DC — Following several on-camera gaffs where he seemed to forget he was speaking, 81 year old Kentuckian Senator Mitch McConnell appeared before the press to rail against growing calls for term and age limits in Congress. During the speech, McConnell seemed livelier than recent appearances, but never removed his dark sunglasses and had his arms around two aides for support.
"Gol'dang, y'all, term limits are just darn-tootin unconstitutional," said McConnell, who began his career in the federal government in 1975 under President Gerald Ford and has occupied his seat in the Senate since 1985. "I might just be a simple country lawyer, but I…um, still have a lot of…life in these ol' bones." 
Though seeming in high spirits, McConnell kept his arms affixed to his two aides, John Llywellen-Carter and Nelson Whitemead-Bush II, and spoke in a trademark southern drawl, but never seemed to actually open his mouth. 
The senator also frequently corrected himself in what seemed to be a second voice with a slightly different southern accent.
With the help of my staff, I've caught up with all my papers or whatever for the new session, lets go to war with Iran." said McConnell, punctuating his typically hawkish political remarks by slamming his head into the podium before Llywellen-Carter helped him stand back up by pulling a string connected to his suit collar. "Just kidding, I'm just as…hopped up as a june-bug for this new session. I love America."
"A lot of people have jobs because we have jobs, you get that? You think anyone would want to work as congressional staff if we were all temps? Fuck that, I—my aide John's been with me for five years and he needs this right now. He just impulsively bought a jet ski. Do you know how expensive it is to store that shit in DC? I need this old freak—who is me—to work till I'm dusty ass bones."
As the Senate returns from an August recess, McConnell joins seven other peers who are or are nearly 80, in a Senate where the average age has risen to 64. McConnell confirmed he would be present for the first session by throwing his head back and waving his arms in the air while his aides struggled to get his sunglasses back on, while the office of ailing Senator Diane Feinstein said that she would be present, and everyone should ignore her "orthopedic casket."