CTA Discontinues Loop-de-Loop Rail Course in Loop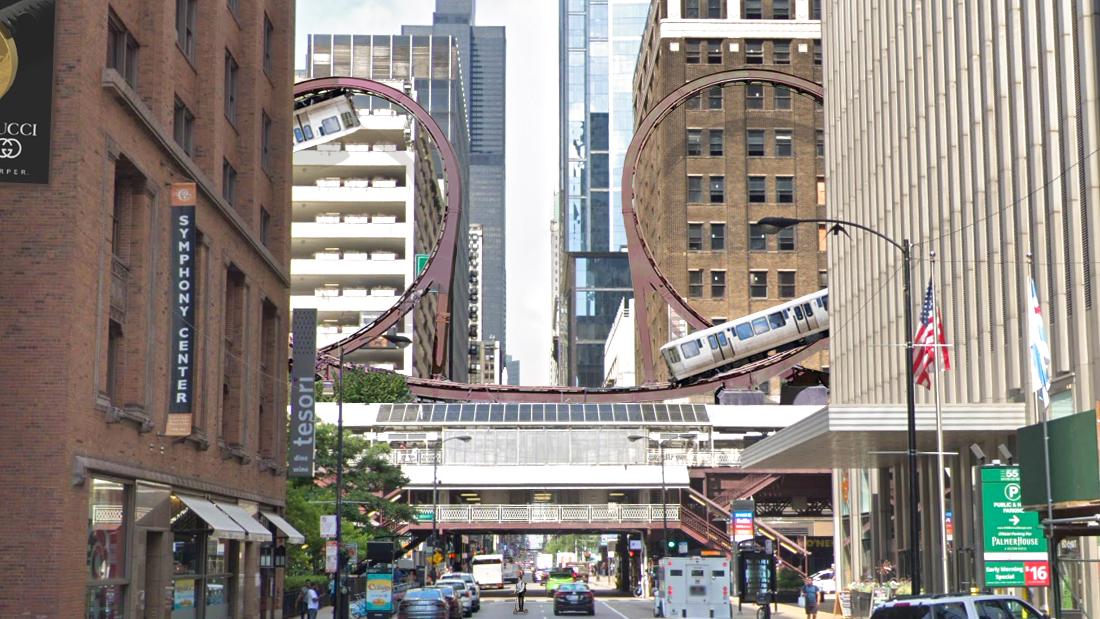 THE LOOP — Dismayed but understanding CTA riders were met this week with the news that the Chicago Transit Authority has plans to dismantle the loop-de-loop track on the Brown line between Adams and Wabash. The 109-foot loop-de-loop rail became an unmistakable Chicago landmark, attracting millions of visitors from around the world.
"It's so sad," remarked Lawrence Krisp, 47, a penny stock trader who uses the brown line to get from hither to thither on an almost daily basis. "The wait was always worth it. I loved going through the terrifying experience of being upside down in a slowly moving commuter train. It gave me the 'pep' I needed to get through a full day of penny trading. I guess I'll need to go back to cocaine."
The loop-de-loop in the Loop has been instrumental to the revitalization of downtown Chicago since its introduction in 2000. "The loop-de-loop is why it's called 'The Loop' in the first place," noted Dr. Presley Weintraub, 60, professor of public planning at DePaul, a university that happens to be in Chicago. "Some people think it's called 'The Loop' because of the shape the Red, Brown, Orange, Purple, Pink, and Green lines make around five downtown CTA stations. That's obviously wrong—even a cursory glance at a map shows that it's a circle, not a loop. Duh!" he yelled into the phone.
The CTA board decided to scrap the loop-de-loop after a lawsuit filed compelled them to either install seatbelts or dismantle the massive loop, which cost the city 3.2 billion dollars to install. "And there was no way we were gonna put in seatbelts. It was too cost-prohibitive," said Grendel Johnson, member of the Safety and Operations Board (SOB).
"I guess one benefit will be fewer deaths," said Marie St. Clair, 49, a tourist who has been living in Chicago for the last twenty years. "But man, that thing is fun. I always thought of the train as a rollercoaster." Over its troubled history, the loop-de-loop has caused 108 fatalities, mostly young children and businessmen. Things aren't all bad for thrill-seekers, though. The Drop of Doom™ is still slated to open later this year somewhere between the Fullerton and Belmont stations. The CTA continues to refuse disclosing its exact location, as that would "ruin it."